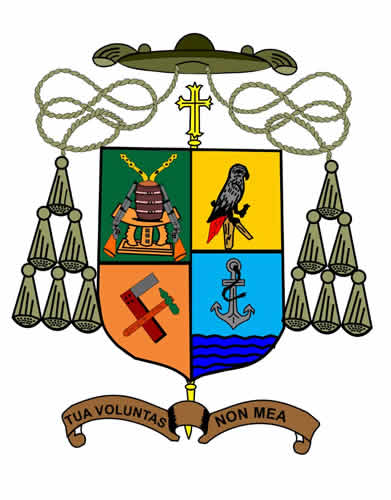 The Crest has four parts
a.    The Upper Left side is a keg of Gunpowder
Leaning against the keg are two guns
This is a symbol of defence and it is the state emblem of Wiawso Traditional Area

b.    The Lower left side is a T – Square crossed with a hammer
This is a symbol for St. Joseph the Worker who is the Patron Saint of Wiawso Cathedral Church.

c.    The Upper right is the Parrot which is the symbol of the Asona Clan to which the Bishop belongs.  The Parrot is a symbol of eloquence

d.    The lower right is an anchor in a deep sea. Jesus is the anchor for the Bishop

The motto of the Bishop is TUA VOLUNTAS NON MEA meaning YOUR WILL BE DONE, NOT MINE (Literally it means YOUR WILL NOT MINE).